How e-KYC systems improve the company incorporation process
Identity verification, also known as the Know Your Customer (KYC) among industries, is an essential process done to ensure that the person who we do business with is the person they claim to be. Traditionally, it is done face-to-face where the person comes to the office and presents his identity document such as IC or passport. This is commonly done when opening a bank account, renewing a driving license, or other official matters that require identity verification to prevent fraud and falsification of identity.
e-KYC: Identity verification done electronically
The e-KYC process may still be new in Malaysia; however, due to the wide adoption of e-wallet in recent years, some of us might have gone through the process of taking front and back photos of our identity document together with a selfie to fulfil the requirement to become an e-wallet user. In fact, e-KYC is a legally recognised identity verification process by many governmental institutes. Bank Negara Malaysia (BNM) has issued a policy document in June 2020 to facilitate the adoption of eKYC technology in the financial sector to make digital onboarding process of new customers possible without requiring new customers to visit the financial services providers in-person.
In light of the pandemic that started in early 2020, in-person identity verification has not been ideal due to restricted movement and social distancing. Hence, e-KYC has proven extremely useful since as it allows for the identity verification process to be done online.
The purpose of e-KYC in the online company incorporation process
The main purpose of carrying out identity verification of directors and shareholders by company secretaries is to ensure that the person submitting the company incorporation form is not an imposter who is misusing another person's identity. There are several ways identity can be forged:
Forged documents - IC or passport with illegally altered information.
Counterfeit documents - IC or passport reproduced using a template according to the original copy of the document.
Blank stolen documents - Blank IC or passport that was stolen from the manufacturing supply chain to insert false information.
Fraudulently obtained genuine documents - Original documents issued by the authorities according to an application made by fraudsters.
Fantasy documents - Documents issued by authorities that do not exist or are not allowed to issue documents.
Imposter documents - Original documents taken or stolen from someone else.
Compromised documents - Images of documents issued by the authorities that are publicly available / shown on news or presentations.
As in the case of preventing loan applications made by a forged identity, this is a necessary step to make sure that there is no misuse of a person's identity as well as that the intention of directors and shareholders in incorporating a company in Malaysia is genuine.
In line with the Anti-Money Laundering & Counter Financing of Terrorism (AML/CFT) framework in Malaysia, company secretaries play an important role as a reporting institution in the effort of combating money laundering and financing of terrorism. Hence, verifying that the directors and shareholders are actually who they claim to be is the crucial first step in ensuring compliance with this regulation.
How eKYC works in identity verification for directors and shareholders
As e-KYC processes are required to meet the same safety standards as traditional KYC, identity verification for directors and shareholders is usually done with the following combination of authentication factors:
Document identification
Directors and shareholders take a photo of the front and back of their IC (for Malaysians) or passport (for foreigners) through the e-KYC system where the data is captured and analysed. The e-KYC system is able to identify if the required document is legit and requests for a re-submission if it is not.
Facial verification
Directors and shareholders take a selfie through the e-KYC system which will match their facial features with the photo on the IC or passport to ensure that they are indeed the same person. The e-KYC system is able to detect if it is a real person taking the selfie or if it is just a photo of the person.
Liveness verification
Directors and shareholders record a video through the e-KYC system according to instructions such as performing simple movements and reading out randomly generated numbers shown on the screen. This ensures that the person performing the e-KYC process is a real person, not an imposter with a face mask or a video recording.
The e-KYC process is usually done through a combination of document identification followed by facial identification or document identification followed by liveness verification. These steps are done directly within the e-KYC system through the directors' or shareholders' device, with a camera. Hence, there is no need to make a photocopy of the IC or passport and send it to the company secretary manually with a risk of having your documents go missing or stolen.
As the directors and shareholders will carry out the e-KYC process on their own, the e-KYC system shows step-by-step guidance to ensure that the process is done properly and the photos are taken clearly without blur and glare. With e-KYC, it usually takes only a few minutes to complete the whole process of identity verification for directors and shareholders in an online company incorporation process.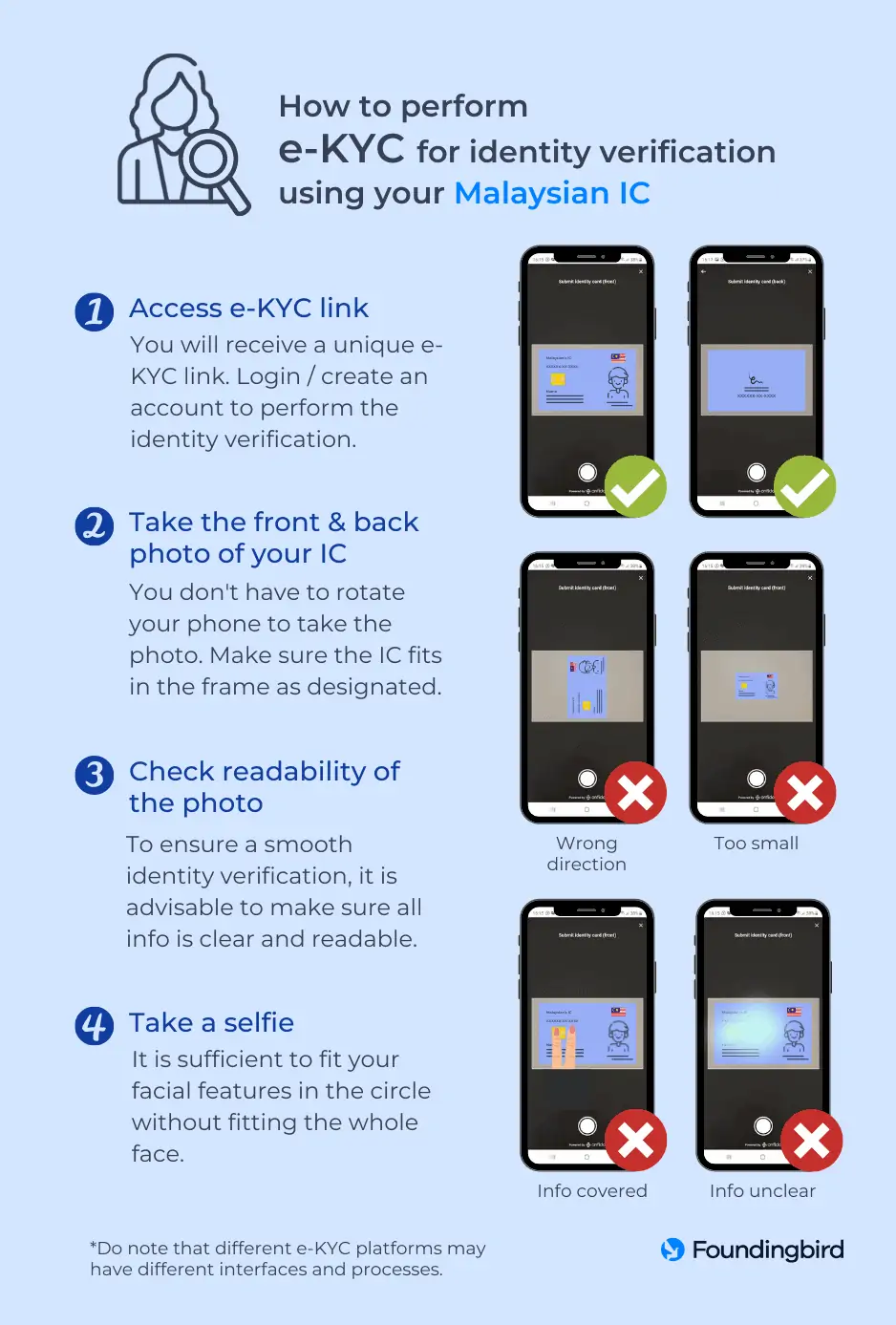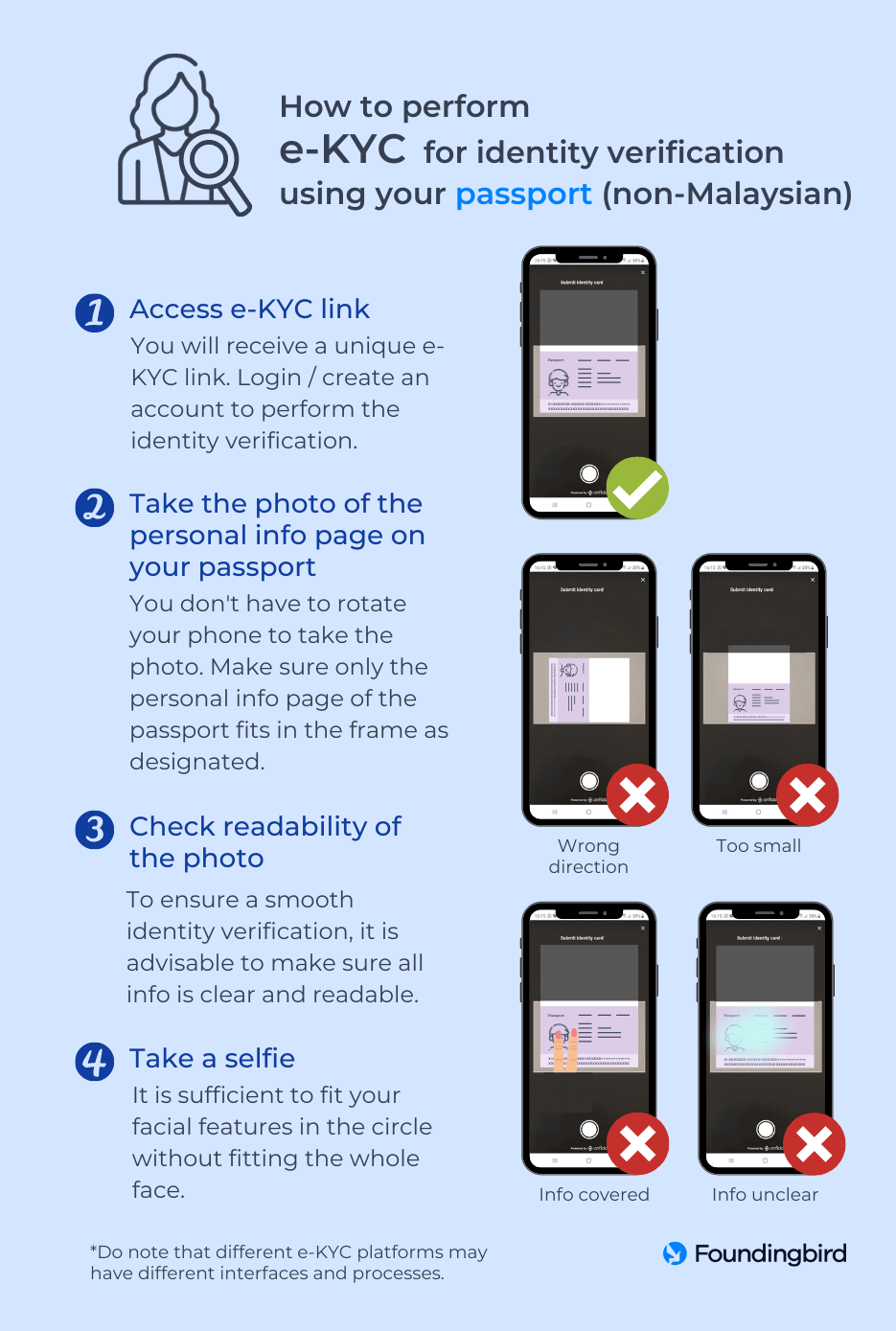 By implementing e-KYC in the process of company incorporation, directors and shareholders of companies are able to get their identity verified accurately and smoothly without having to meet the company secretary in-person. With a secure and safe e-KYC system, identity verification can facilitate the entire process of company incorporation, reducing the time needed to get your company up and running.