This guide walks you through the company registration process of a private limited company for foreign entrepreneurs through the MyCoID portal of SSM.
Private Limited company, or usually known as Sdn Bhd in Malaysia is the most common among the 6 types of company registration in Malaysia. All 100% foreign-owned businesses in Malaysia must be registered as either a Private Limited company or a Foreign Company. Since the Companies Act 2016 came into effect, the updated company registration regulation allows the private limited company registration to be done online through the MyCoID portal managed by the Companies Commission of Malaysia (SSM).
Eligibility to register a private limited company
You may register a private limited company as the sole director and shareholder, providing the following conditions are fulfilled:
18 years old and above
residing in Malaysia
not disqualified under Section 198 of Companies Act 2016
Documents needed
Passport for MyCoID account validation
Authorization letter if your proposed company name contains controlled words or trademark
Payment needed
The SSM charges RM1,010 (inclusive of tax) of incorporation fee.
Step-by-step procedure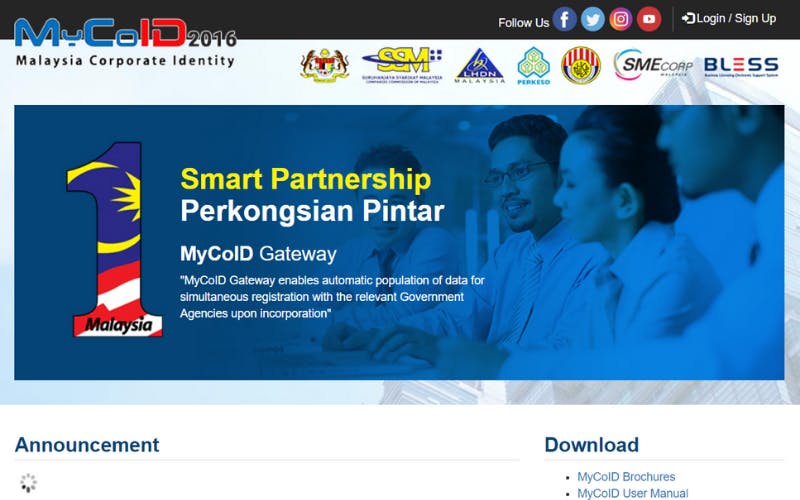 1. Account registration on MyCoID portal
Register an account on the MyCoID portal as an individual user.
2. Account activation at SSM counter
Upon activating the account through email, you will receive another email with instructions to validate your registration at the nearest SSM counter.
3. Login credentials received through email
After SSM activated your account, you will receive an email to create login credentials on the MyCoID portal.
4. Proposed company name search
To get started with the company registration process, go to the Direct Incorporation Application on MyCoID portal homepage to carry out the Name Search by keying in the proposed company name that you want.
*You will not be able to proceed if the proposed company name is taken, reserved by other people or contains prohibited words.
5. Other information under Name Search
Other information under Name Search should be selected as follow to register a private limited company:
Purpose: N - NEW INCORPORATION
Type: S - LIMITED BY SHARES
Company SubType: SDN. BHD.
6. Super Form to clarify your proposed company name
Next, you will be redirected to the Super Form where you clarify the meaning behind the proposed company name. If the proposed company name contains names of states, controlled words or trademark, you will have to attach an authorization letter from the respective authority or owner.
7. Business code selection and description
Then, select a business code that is related to your business, and provide the description together with the registered address and business address of the company.
8. Directors and shareholders information
You are automatically listed as a director and shareholder of the company, but you can add directors and shareholders in the next step. Besides that, state whether you have employees in the company under Information To Agency section.
9. Application submission
After reviewing the information on the preview page, submit the application and you will be redirected to the Transaction page.
10. Payment of incorporation fee
Make the payment of RM1,010 as an incorporation fee (inclusive of tax) and get a transaction receipt.
11. Notice of Registration as proof of incorporation received through email
You will receive the Notice of Registration as proof of incorporation through email within 1 business day if your company has been approved by SSM. A Certificate of Registration can be purchased with a prescribed fee at the SSM counter if it is required.
* You will be notified through email if the application is queried by SSM. The application can be edited and resubmitted again.
Within 30 days of company registration, a company secretary shall be appointed. This information can be lodged through the MyCoID portal. While it is not mandatory for a private limited company to lodge a constitution of the company, it can be done on the MyCoID portal as well.
It is too much of a hassle to visit the SSM counter for MyCoID account validation?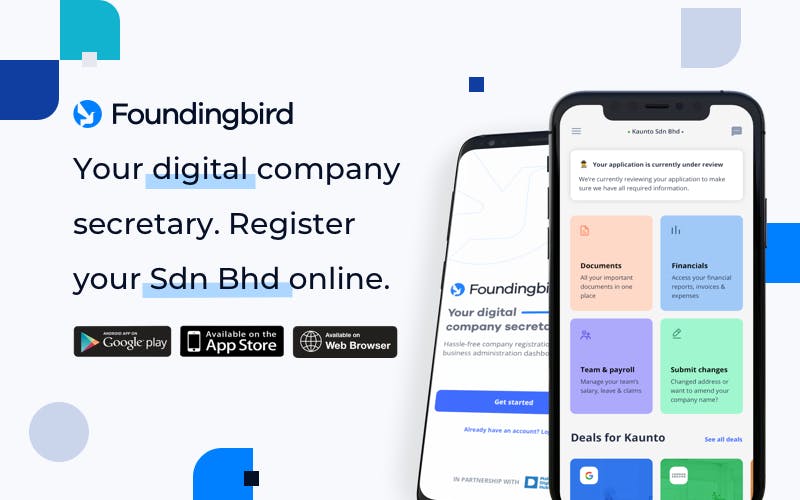 On Foundingbird, you can register your private limited company from your home country. As a digital company secretary, we provide an online portal where you can carry out company registration for your private limited company in a streamlined process fully online, from filling in your company information to e-KYC process for all directors and shareholders, all at your fingertips. Register your private limited company now through the Foundingbird website.