Job portals have become an integral part of the hiring process in recruiting the right talent for companies. Here are some options for employers in Malaysia.
Just like that choice piece of cookie in the pantry that you were eyeing before it got snapped up by your colleague, suitably qualified candidates are scarce. Sure, what with the influx of graduates entering the workforce each year (this number, of course, varies from industry to industry where demand for certain jobs are higher than others), you'd think that the job market is veritably saturated with talent. The hard truth is this— candidate scarcity is still one of the biggest challenges for most Malaysian recruiters. Employers are undeniably spoilt for choice when it comes to surveying the talent pool for potential employees, yet most struggle to hire the right person for their company needs. Compounding the issue at hand is the fact that some recruiters still gravitate towards inefficient recruitment habits, which make the hiring process unnecessarily tedious.
The race to securing top talent
This inefficiency when it comes to hiring poses as a serious problem as good quality candidates are snapped up quickly. Moreover, the modern job seeker is highly selective when it comes to the search for a job— often considering company culture and reputation— among many other factors, before sending in their job applications. The pressure is on for employers to act fast and implement powerful recruitment marketing strategies in order to attract the right candidate for the job. So how does your company gain a competitive edge over others in the race to secure top talent?
Before start pulling out all the stops in a frenzy to find "the One", consider this. Recruitment has taken a turn for tech with the rise of job portals in recent years. These sites have proved to be an invaluable tool for both employers and job seekers alike, accounting for an estimated 50% of hires worldwide. Not merely a means to post job listings, job portals offer a multitude of additional benefits for the Malaysian employer:
Speed and convenience: screen potential candidates on-the-go and post jobs with a click of a button.
Wider reach: a large pool of candidates to choose from, unfettered access to resume databases.
Company branding: gain visibility and establish online company presence.
Job portals work both ways too; a survey by Hays Asia reveals that 60% of Malaysians found online job websites to be the most successful method of finding a new job. How's that for a win-win situation? Get a head start with these job portals:
Paid; pay per package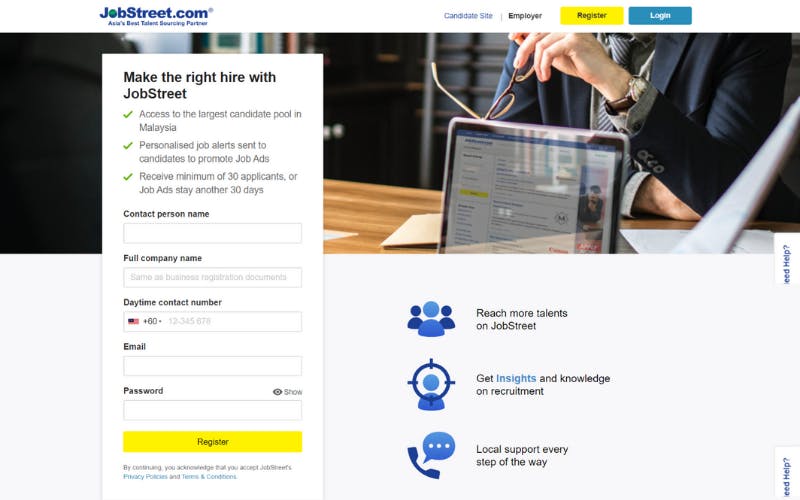 With more than 90,000 employers and 3.6 million candidates on the platform, Jobstreet is by far the most popular choice for Malaysian employers and job seekers. This job portal promises services beyond posting a job ad, offering guidance and support to recruiters new to the hiring scene. It's tried and tested approach to attracting talent has earned it the moniker of Southeast Asia's largest online employment company.
5-star job ads
Effective recruiting begins with the perfect brief. Jobstreet Academy provides guidance on how to craft the perfect job ad, among many other helpful hiring tips. The job portal prides itself on offering a range of resources with the purpose of assisting recruiters in their search for prospective employees. Worried your job ad doesn't measure up? Feel free to get in touch with their support team who are more than happy to edit and rewrite your ads for you.
Smart recommendations and access to embedded industry data
Jobstreet's extensive database comes with a number of perks, including intelligent recommendations specific to your company. Get instant industrial salary suggestions when you create your job ad, as well as suggested screening questions tailored specifically to the job. The platform also makes use of integrated sourcing, which instantly recommends prospective candidates for you once your job ad is posted.
Quick and easy candidate management
Jobstreet's SiVA Recruitment Centre does it all! Create job ads, manage candidates, access the Jobstreet Talent Search tool, and coordinate your recruitment activities with key stakeholders all on one online platform. The employer dashboard allows for convenient and easy access to updates; its intuitive interface easily helps you keep track of applications.
Choose Jobstreet for:
its commitment to providing guidance and support to new employers via Jobstreet Academy.
access to millions of viable candidates across Southeast Asia.
Paid; per ad clicks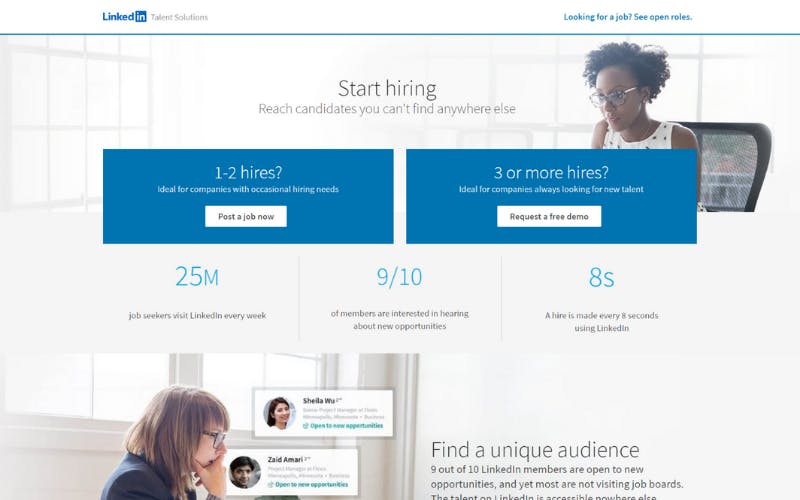 Professional social network, headhunting tool and job board— LinkedIn does it all. Boasting a huge user base of 600 million users, with 25 million+ job seekers using the site per week and 35 job applications every 2 seconds, it's a trusted job portal that gets the job done, literally, claiming to account for a successful hire every 8 seconds. The business-focused social network has refined its products over the years to offer an arsenal of tools to help you find your next hire:
Precise and personalized targeting
Thanks to LinkedIn Job's efficient screening system, 80% of hirers receive a qualified applicant in just 24 hours. It makes use of targeted promotion to help your job posts gain high visibility to potential candidates, who will encounter your job listings via their Linkedin feed, emails, push notifications, etc. Its simple applicant management tool effectively screens out candidates who don't meet your minimum requirements; plus, it takes the edge off by rejecting your applicants for you.
Craft the perfect job post, even when you're on a time crunch
With 139 job description templates to choose from, as well as access to auto-generated descriptions based on similar jobs on the site, you'll have your job posts up in no time.
Enjoy fuss-free payment and value for money
LinkedIn Job encourages flexible spending by allowing you to set a daily budget, automatically pausing your job post when it reaches your total budget. A major plus is that you only pay for views from candidates who click on your job post and there is no extra payment for recommended candidates. For a breakdown of how exactly LinkedIn Job's products are working specifically to your company, look no further than its Performance Summary Report for employers, which delivers key metrics, like InMail response rates and Job Slot utilization, right to your account.
Choose LinkedIn Job for:
its massive user base, take your pick out of millions of job seekers across the globe.
its professional repute with employers and employees alike.
Paid; annual subscription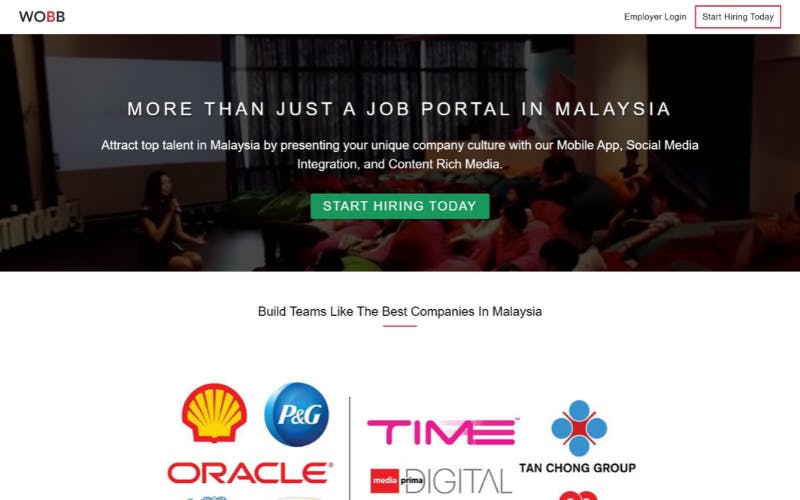 Does your company want to utilize the latest recruitment marketing trends to attract quality employees? A burgeoning youth platform founded in 2014, WOBB specializes in employer branding to attract Gen Y and Gen Z job seekers. WOBB's relatively fledgeling status as a job portal compared to the likes of LinkedIn Job and Jobstreet, has not deterred it from aspiring to reach greater heights; following its inception and the release of its mobile app it has rapidly gained traction and is proving to be a strong contender among local and international job portals alike. Here's a couple of features that every employer can benefit from using WOBB:
Access to passionate Gen Y and Gen Z job seekers
WOBB has long been lauded by employers for its ability to attract young, tech-savvy job seekers— 86% of the users on its platform are, in fact, Gen Y! Their Tinder-esque mobile app allows job seekers to swipe right on jobs they love, actively engaging otherwise passive candidates and thus accelerating the hiring process.
Company branding made easy
The job portal offers a range of tools and services which give your company a chance to showcase its unique work culture, thus attracting viable, like-minded candidates. In particular, its use of content-rich media (a combination of professional photos, videos, and interviews) to create a personalized company profile page allows your company to construct a spellbinding narrative bound to entice any job seeker.
Friendly user interface/ employer back-end system
The process of posting a job listing on WOBB is simple enough; employers are given fully customizable means of purchasing credits called Job Slots which allow you to post, re-post, and replace jobs as much as you like within a 12-month period. Its virtual interviewer Aivi (Artificially Intelligent Virtual Interviewer), helps employers screen through potential candidates by mimicking the traditional Q&A process of a face-to-face interview. Employers may then assess the responses to determine if the interviewee is the right fit for their company.
Choose WOBB for:
its creative approach to employer branding and showcasing company culture.
its user-friendly interface that caters to the needs of every employer.
Paid; pay per job ad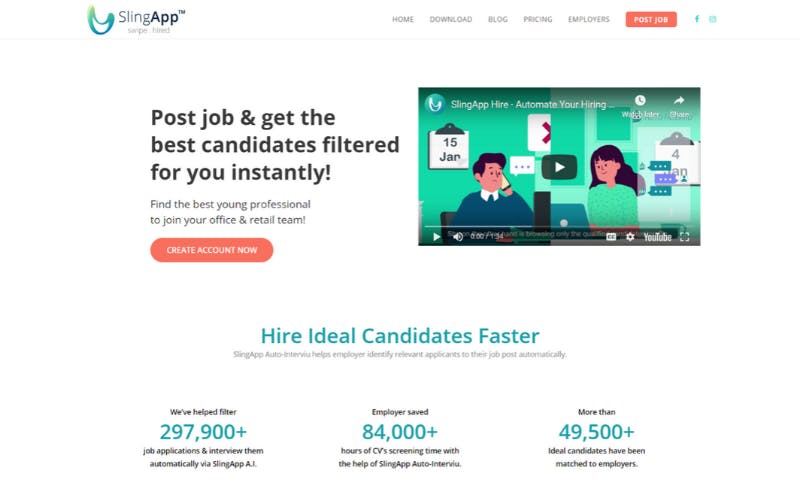 Ever been in a pickle when it comes to filling up a position at your company? The concept of speed hiring may come as a surprise to many as we've been ingrained to associate an excellent hire with one that has gone through a thorough screening and interview process. As Malaysia's fastest job-matching app, SlingApp is proof that you can find the right candidate under just 1 minute. Its co-founders, Lucas and TJ, identified a gap in the market for part-time job hunting and thus, SlingApp was born. The job portal has since expanded to include a range of full-time job postings. Check out what it has to offer:
Speed without compromising accuracy
With SlingApp, you can expect a reduction in screening time by 70%. The app instantly connects job seekers to jobs nearby, who swipe right to apply for jobs. Should these applicants meet your requirements, they're instantly interviewed by SlingApp's chatbot and their details are sent directly to your inbox. This eliminates the waiting time that occurs between the screening and interview processes.
Automated filtering
As an employer, you get the option to set up 5 Auto-Interviu™ (AI) questions, which extract specific details from the applicants relating to the criteria of the job they're applying for. This feature works hand in hand with a set of Smart Filters, which in turn matches applicants to the job best suited to their abilities. Also part of SlingApp's applicant filtering process is an employee rating system, which lets employers take an active role even after the recruitment process by reviewing past employees.
Candidate recommendations
The app's latest Talent Search feature allows recruiters to search and contact active job seekers who qualify for their job openings. Recruiters are able to access a larger pool of potential employees via this feature, which recommends and makes visible the applicant profiles of viable candidates who are looking for similar jobs on the platform.
Choose SlingApp:
to find employees for high turnover jobs, fast.
to breeze through the recruitment process without breaking a sweat.
Free; pay for further referrals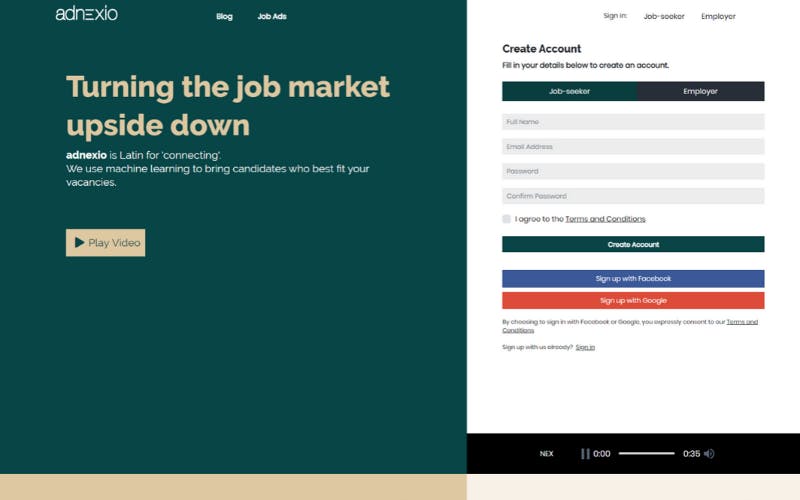 The brainchild of ex-PKR vice president Rafizi Ramli, adnexio uses artificial intelligence (AI) technologies to match your company with the ideal candidate. Its founder attributes his interest in AI recruitment systems to the unemployment and human capital development problems in Malaysia, citing adnexio is an "ecosystem that connects employers and prospective job seekers" via a smart machine called NEX. Sound intriguing? Read on to find out how AI-driven recruitment can bridge the gap between HR teams and potential candidates:
AI-powered recruitment
While most recruiters are no stranger to the advent of AI in recruitment, most AI solutions fail to consider the use of AI throughout the hiring process. adnexio hopes to take AI recruitment to the next level by utilizing these technologies to address hiring concerns beyond that of vacancy advertising. The job portal's high tech, AI job matching system, NEX, cuts down on a whopping 80% of the recruitment process.
Find the candidate of your dreams
NEX runs analytics on prospective candidates to rate their suitability. It collects a ton of data from job seekers— personal details, education, work experience, personality type, confidence level, leadership qualities, etc. via a comprehensive assessment process which includes a personality test and a 5-minute video interview. The results are compiled into detailed performance reports which are then ranked against the population. This ensures that you're referred only to candidates who match your exact requirements.
A system that keeps on learning
As NEX trains on more and more data, the prediction model will execute iteratively to produce hiring recommendations with higher accuracy. These algorithmic prediction models only get larger with time; as such, you can expect to find the closest match as you continue to use adnexio. Did we mention that you can advertise vacancies on the site for free?
Choose adnexio if you're looking for:
a high-tech, intelligent solution to your hiring needs.
a place to post jobs and access a whole host of recruitment tools virtually for free!
Job portals are just the tip of the HR technological iceberg; the modern recruiter now has access to a multitude of digital recruitment tools that provide simple solutions to nuanced hiring tasks. Perhaps you're now feeling inspired to integrate technology with your recruitment practices. Supplement your hiring process with these additional tools:
Workable: aside from a centralized Applicant Tracking System (ATS), this recruitment software offers a full set of features to help you transform your hiring process e.g. a personalized hiring plan for budget tracking. Plus, it integrates seamlessly with job portals like LinkedIn and Monster to create a HR system that works best for your company.
Interview Mocha: a skill assessment software that provides over 1000 aptitude tests ranging from those that assess technical skills e.g. coding, accounting as well as cognitive capabilities and language proficiency.
Textio: create powerful job descriptions that bring in applicants 90% faster. Textio uses augmented writing technology to evaluate your job descriptions before you publish them, suggesting the best possible keywords to craft compelling job ads.
The advent of social media in recent years has brought about a new recruiting trend that looks like it's here to stay. Social media recruiting involves advertising job positions on non-traditional sites like Facebook, Twitter, Instagram, and other social media platforms. If your company is looking to diversify its talent pool with young job seekers, social media might just be the right hiring channel to explore. This method of recruitment is also a way to strengthen your employer brand and make it known to prospective candidates.
Job portals: the key to hiring quality talent?
While by no means a comprehensive list of job portals in Malaysia, we hope this has helped you narrow your search for the platform best suited for your company's hiring needs. Keep in mind that technology is by no means the ultimate saving grace and should not work in place of good ol' hiring practices; ultimately, establishing company culture and branding will help your company attract the right candidates. Much like all business efforts, the multi-pronged approach seems to work best when hiring; using a combination of these job portals and other recruitment software will yield a good selection of prospective employees. Exercise a bit of lateral thinking and you'll find quality talent in no time!